[Part 3] For the Future of Printing: Automating production and maximizing pressroom productivity
Packaging Solutions
15 July 2020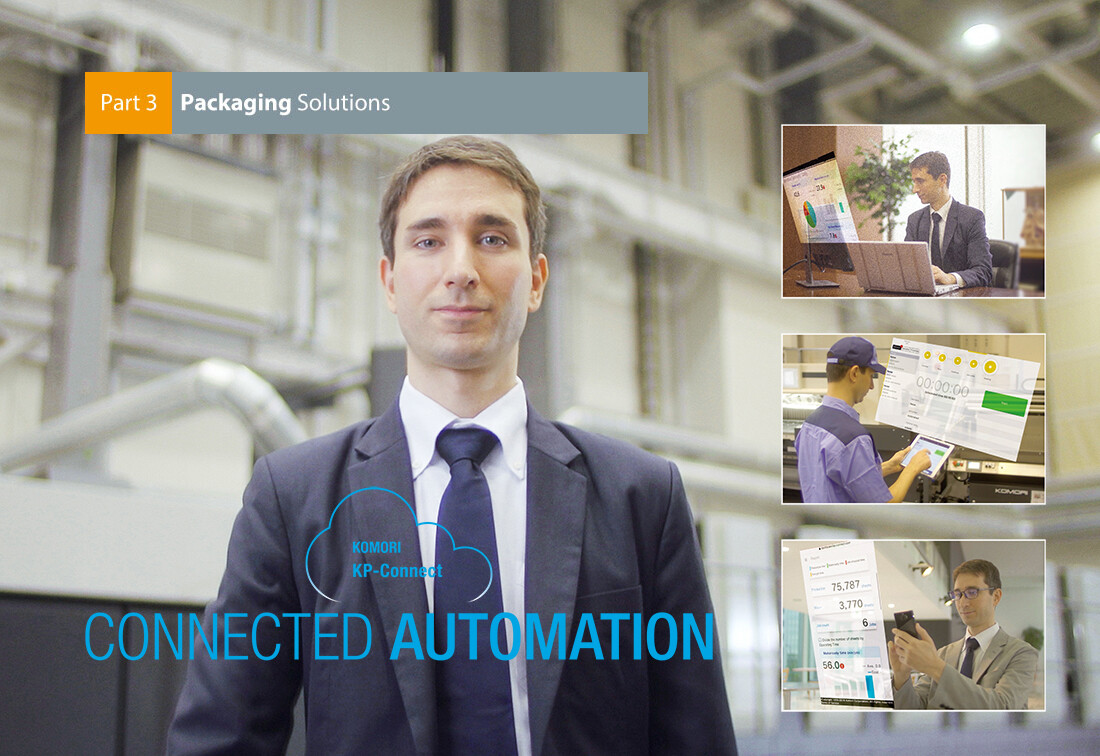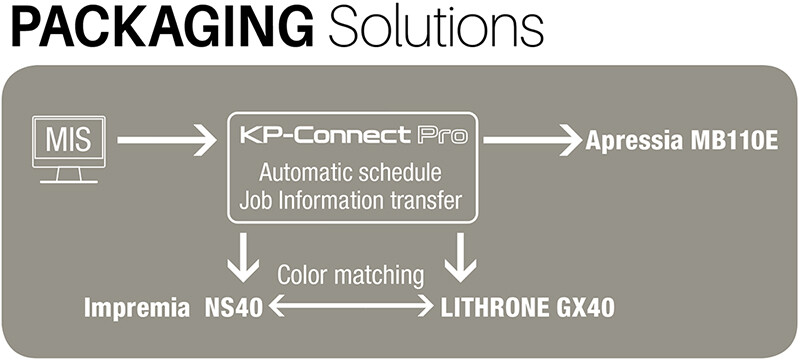 Next, an example of an automated packaging solution that connects KP-Connect Pro with the seven-color Lithrone GX40 with double coater, the Impremia NS40 digital machine, and the Apressia MB110E blanking system.
In Packaging Solutions, automatic scheduling is performed by the MIS-linked KP-Connect Pro according to the characteristics of the presses based on information such as lot size, delivery date and colors used.
As a state-of-the-art machine, the Impremia NS40, currently being developed, will be equipped with inkjet head technology that provides wide-gamut seven-color printing with inline coating capability to meet the requirements of the packaging market. The expanded color gamut combined with the high productivity of the press's 6,500 sph printing speed makes this press the right choice for today's packaging printer.
The highly evolved seven-color Lithrone GX40 with double coater is ideal for package printing due to the ultimate Parallel Makeready system. By adopting independent drive units and enabling simultaneous cleaning of the ink rollers and a coater plate change, job changeover can be completed in around six minutes.
In addition, Komori is developing Smart Color printing technology that will significantly contribute to greater package printing productivity. This system adds special orange, green and violet inks to CMYK, pseudo-reproducing special colors by seven-color separation software without changing colors, which is a bottleneck in package production. This technology shows the power of Komori's Komorimatic continuous dampening system, which offers outstanding dot reproducibility. In the future, Komori will develop special materials and software as well as improve the technology of the dot management system by incorporating our extensive knowledge in this field.
In print quality assurance, Komori offers the PDF Comparator System, a solution that identifies defective sheets by scanning the printed sheets with a high-precision scanner and comparing them to the PDF data for platemaking. The Sheet Numbering System, which prints a unique number on all printed sheets, enables process assurance and traceable quality control.
In postpress, the Apressia MB110E promotes laborsaving in the blanking process and improves postpress processing efficiency. The Apressia MB110E is a semi-automatic machine. Its sister machine, the fully automatic Apressia MB110HR, is under development.
Introduced here are some of the Komori solutions that contribute to optimization of operation throughout the plant and maximization of productivity. To create the future together with our customers, Komori is developing many state-of-the-art technologies and solutions that will spark innovation throughout the entire business and production sites.
Please contact us.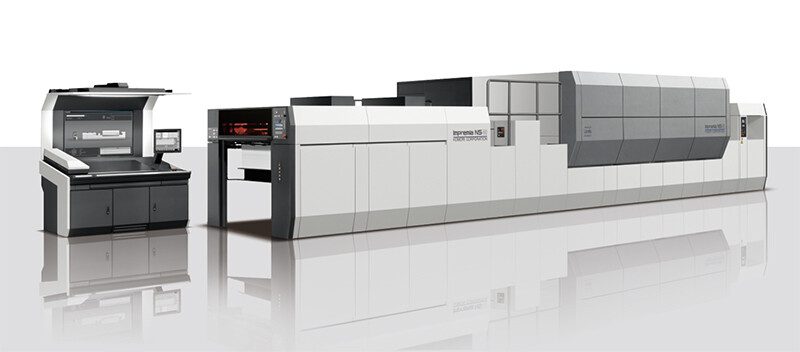 Features
• Highly accurate color matching is achieved by combining offset and digital.
• Suitable with a wide range of B1 stocks from 0.06 to 0.8 mm in thickness.
• 6,500 sph printing speed, 1,200 dpi output resolution, and support for four to seven colors. Highly stable register and densities.
• Plateless data printing system minimizes job changeover time. Minimum paper waste.
• Short operator training.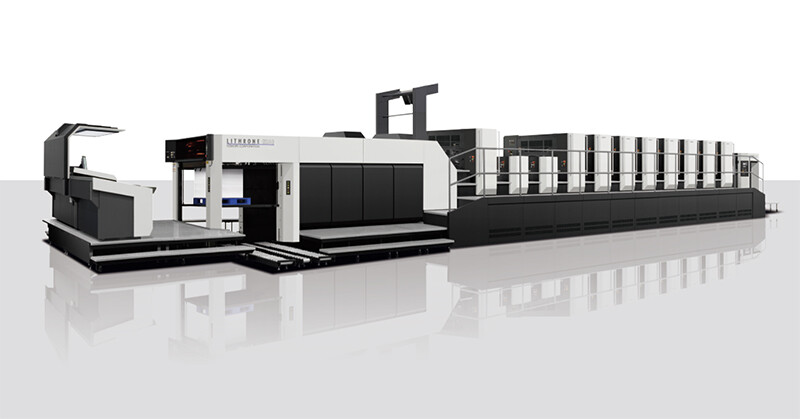 Features
• Komori's flagship machine meets the diverse needs of customers at a high level.
• In addition to stability at the 18,000 sph maximum printing speed, even on heavy stock, print quality and the flexibility of color changing have been greatly improved.
• Overwhelming productivity has been achieved with an automatic nonstop system, a control system, various automation devices and a new cleaning system for long runs at high speed.*
• KHS-AI, the core system for meeting various printing requirements, is equipped with new functions that strongly support package printing and demonstrate tremendous power for achieving high quality and high productivity.
• Environmentally friendly and saves energy, space and exhaust heat.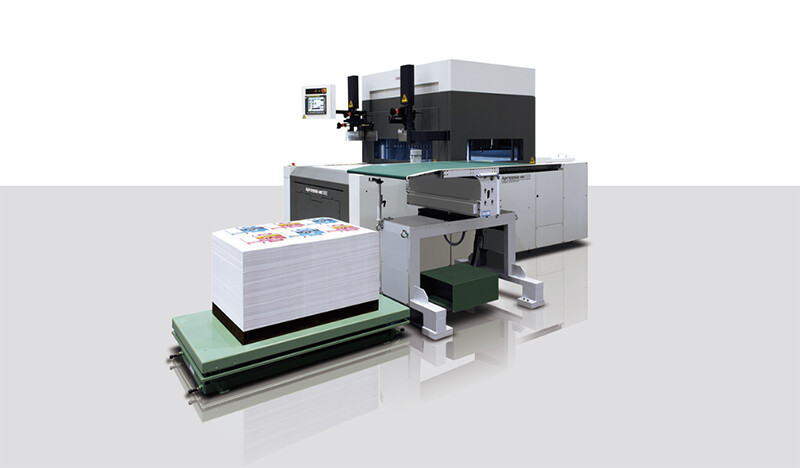 Features

• From manual to automatic. Blanking system that supports short runs of a wide range of products.
• Achieves the stable quality and cleanliness required for packaged products.
• Consistent product quality due to mechanized stripping process.
• High-precision, stable production capacity facilitates production planning and delivery management.
• The operator's load is greatly reduced, and the system meets the needs of small lots, low cost, and high productivity.
• Clean product and work environment due to no-touch system.
Specifications shown here include options. Figures show Komori measurements under specific conditions. No warranty is implied.
Click below to read Part 1.


Click below to read Part 2.


Related Information
Contact Komori South America, Asia, Oceania