[Part 2] For the Future of Printing: Automating production and maximizing pressroom productivity
Commercial Solutions
15 July 2020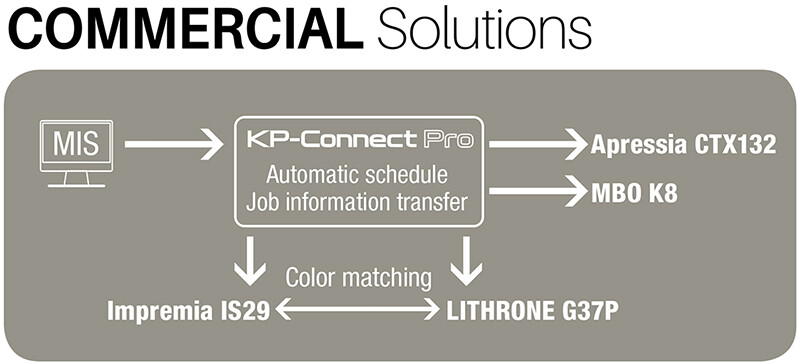 First, an example of an automated commercial solution that connects KP-Connect Pro with an offset press (Lithrone G37P), a digital printing system (Impremia IS29), a cutting system (Apressia CTX132), and a folding machine (MBO K8 + CoBo-Stack).
When a job is sent from MIS, KP-Connect Pro automatically schedules the job according to its contents and sets an instruction for jobs with small lots and quick turnarounds to take advantage of short run digital. These jobs along with all variable jobs will be sent to the Impremia IS29. After receiving the instruction, the Impremia IS29 will perform continuous printing of multiple jobs without any loss of time.
When offset printing is more effective due to the lot size and delivery time, job information is sent to the Lithrone G37P for the job to be printed.
Digital and offset machines are color matched using K-ColorSimulator 2, easy color matching software, demonstrating that the same color can be produced by both offset and digital printing.
The Lithrone G37P is equipped with Parallel Makeready that can perform job changeover in just two minutes by executing press makeready tasks in parallel. Since all necessary job information is sent automatically from KP-Connect Pro, the operator just selects the job, and makeready tasks are completed by a one-touch operation.
In postpress, the Apressia CTX132 performs unmanned cutting of sheets printed on both sides by the Lithrone G37P (with LED-UV curing). Of course, the cutting system is linked to KP-Connect Pro, and the cutting procedure is automatically set with the necessary and optimum information for cutting, such as cutting position and order.
Further, a folding machine from MBO, a major German postpress equipment manufacturer that recently joined the Komori Group, will be utilized, so that all processes from printing to folding will be efficiently completed.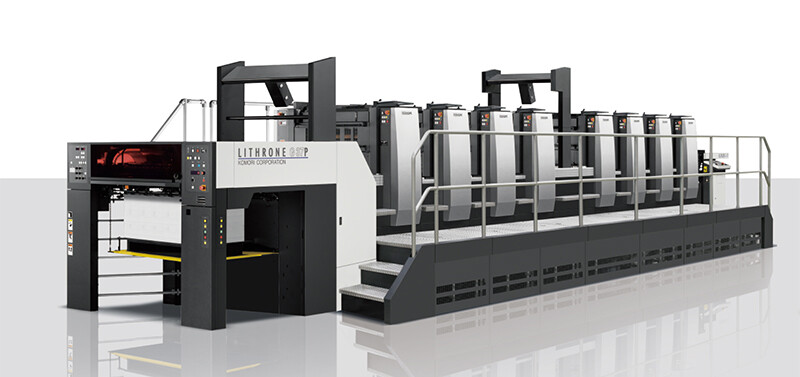 Features
• Equipped with a sensor tracking function that automatically reads the center color bar* and register marks.
• H-UV lamp or H-UV L (LED) module can be mounted on top of the suction cylinder of the perfecting mechanism and in the delivery, enabling H-UV printing even with double-sided printing.
• Scratches and smearing are eliminated by adopting a flattened perfecting cylinder surface.
• Fast single-sided/double-sided printing mode switching by fully automatic sheet reversal changeover function.
• Special ceramic jackets for the impression cylinders of the units after the perfector are not required,* enabling stable print quality with no front-back printing difference.
* When equipped with H-UV/H-UV L (LED) or UV
Features
• 1,200 dpi high print quality with offset-like volume.
• Ordinary offset printing paper can be used as is.
(No precoating or special paper required).
• Paper size excellent for many impositions, and sheet thickness range suitable for packaging.
• Single-sided/double-sided printing by means of fully automatic changeover.
• Excellent post-processing suitability due to original UV ink.
• Color matching with offset printing enabled by K-ColorSimulator 2.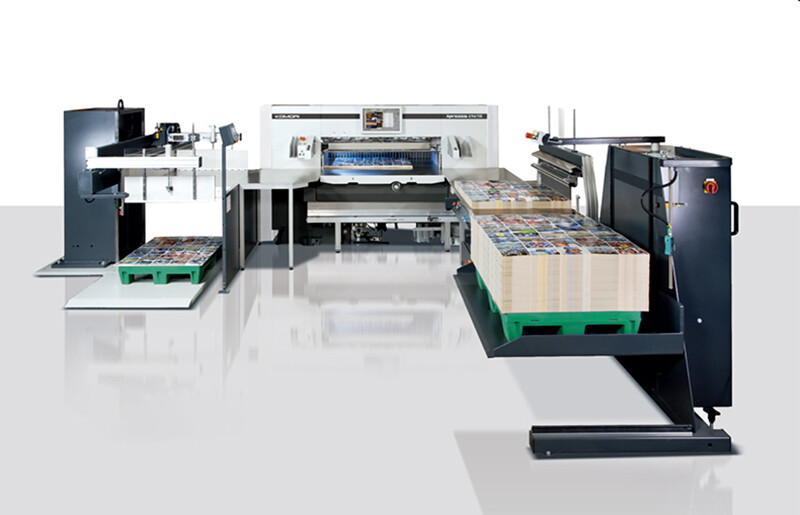 Features
• High-end cutting system that brings significant automation and laborsaving to the cutting process.
• In addition to meeting the latest safety requirements, Komori has a wide range of peripheral equipment and cutting machine options. In the cutting process, automation, laborsaving, and safety are achieved at the same time.
• Supports KP-Connect as well as CIP3/CIP4, enabling process and progress control up through postpress.
• Body structure provides precise and efficient cutting.
• Peripheral option system can handle all issues.
Features
• Patented slitter drawer type. Adjustable from outside the machine and requires only one operator.
• Original air cylinder drive enables a crossfold knife frequency of 40,000 cycles/hour.
• By moving the knife position horizontally, higher speed with a minimum sheet gap is possible.
• Paper adjustment, cleaning, and parts removal are easy due to the crossfold knife opening/closing system and the slide-out threefold knife system.
• Defective sheet detection/ejecting device ejects defective sheets during operation.
• CoBo-Stack automatically loads folded signatures on pallets, contributing to laborsaving.
Specifications shown here include options. Figures show Komori measurements under specific conditions. No warranty is implied.
Related Information
Contact Komori South America, Asia, Oceania